Happy to say that I got my Quentin Defense receivers last week! I ordered two AR15ChatterBox billet lower receivers and a single QD billet upper receiver. I'm in the process of building one AR-15 now (CB0029) and saving the other lower (CB0030) for a future build. I didn't want to get legislated out of the chance to get another lower in the future.
Quentin Defense stripped billet lower receiver:
Quentin Defense billet upper:
Both of them together: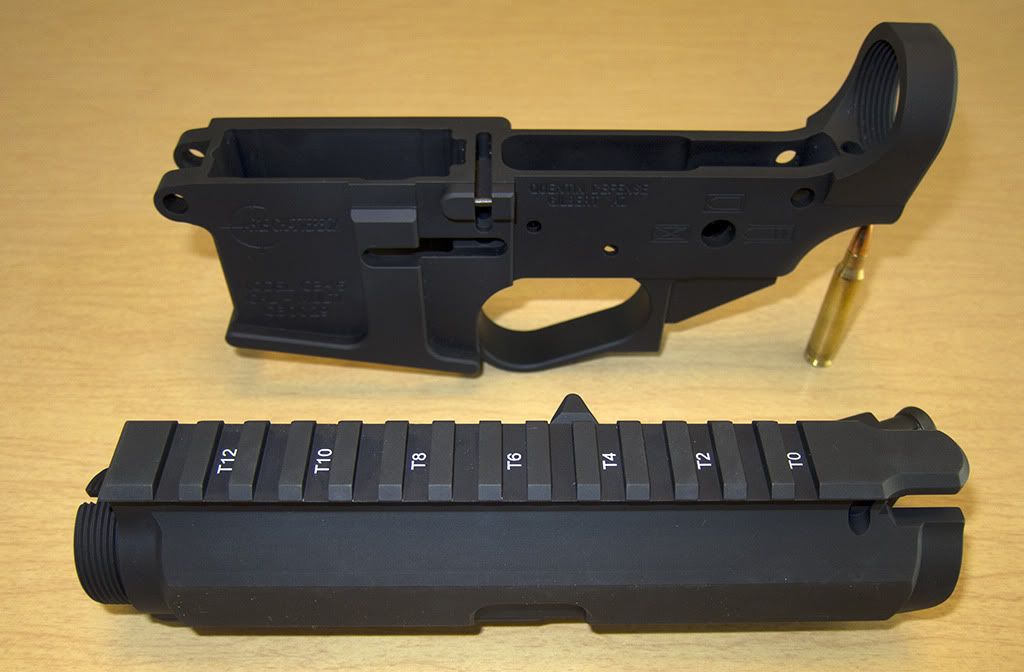 My plans are to start assembling the lower this weekend. I don't have the barrel, handrail or sights yet, so I'm not really in a hurry.
Thanks to Jason and all the Quentin Defense guys! They did a great job on all my parts and they are just like I wanted them... They are almost too pretty to shoot... Almost!!!
----- New as of 10-2-2011 -----
Thought I'd put up a list of the parts I used to build my AR-15. I always liked to look through everyone elses parts list when I was putting mine together... Also a couple of pictures, since it's completed and shooting now!
Lower
Quentin Defense Stripped Billet Lower Receiver
Daniel Defense Lower Parts Kit
KNS Precision SS Oversize Trigger Group Pins
Hogue Pistol Grip
Magpul MOE Butt Stock and Buffer Kit
Magpul 0.70" Extended Butt Stock Pad
Upper
Quentin Defense Stripped Billet Upper Receiver
BCM M16 Bolt Carrier Group
BCM GunFighter Charging Handle
Noveske 18" SPR 5.56mm Stainless Barrel
Primary Weapons Systems 5.56mm Flash Suppressing Compensator
Daniel Defense Free Floating Lite Rail
Harris Bipod with Integrated LaRue QD Rail Mount
Magpul Vertical Rail Grip
Optics
Leupold Mark AR 3-9x40mm Scope
LaRue Tactical SPR Scope Mount
Butler Creek Flip-Up Scope Covers